Stright Key collection
KEY J-47 LIONEL CORPORATION N.Y.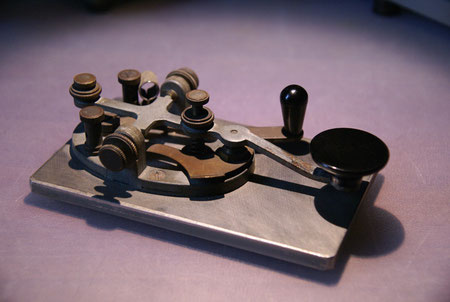 Here is a scarce Lionel J-47 key, with brass frame type. It is the same hand key used on the J-38 assembly, with the circuit closer and on a J-47 like base, but this in steel inox base hand made by "sk I6BDS".
Marconi AS N.300A
This key is a rare one indeed !
Almost identical to the PS N. 213A, is the coastal station keys line.
The knob and the skirt are ebonite, was the plastic of those years, made from a soft rubber compound, sulfur, and thickener material, was then baked at 150 ° C in the furnace. Subsequently, the material could be machined with lathe or milling cutters.  A material that elicits a certain charm and warmth in the objects that today there is more!
IZ3BSR Mirco in Venice, the amateur who has given me says that this key was found at a flea market, to "Piazzola sul Brenta" twenty years ago, and says he remembers a reseller of Trent, then you can not know where had worked on this button, you can still suggest perhaps a coast station or on board a ship.
This key I rebuilt the stream of electrical contact by inserting a button in pure silver, the handwheel of the spring has been rebuilt, the plan to put your fingers under the knob has been rebuilt as well as the screw connected to the main spring. The key is returned to work as well as an original key, and transmit such key has a special charm creating a musical Morse code unmistakable.
Photographic gallery in workmanship